As seen on our Home Page, we have several options to choose from when filing Complaints and submitting Answers: filing online, a public law library available on the second floor of the Courthouse, a drop-box on the northwest corner of the Courthouse, or filing in the clerk's office with, or without, an appointment.
Keeping You Informed
As COVID variants are reportedly on the rise in our district again, hospitalizations from such are also reportedly on the rise. In the words of Chief Superior Court Judge W. Flethcher Sams, court proceedings are not volutary, and the jail and the courthouse remain the only place in our community where people have no choice in whether to attend or not. Accordingly, Judge Sams has amended the Courthouse Safety/Security Guidelines for All Classes of Courts effective August 6, 2021. Please click on the heading above or HERE to read this Order.
Georgia Courts Reopening Guide
Judicial Council Strategic Plan Standing Committee
Click here to see the the Georgia Supreme Court's five page Reopening Guide.
Click above title to view complete Order on Pike County Magistrate Court's Courtroom Guidelines. *NOTE: THE ORDER AMENDING COURTHOUSE SAFETY/SECURITY GUIDELINES FOR ALL CLASSES OF COURTS EFFECTIVE AUGUST 6, 2021, (POSTED ABOVE) SUPERCEDES THESE GUIDELINES where in conflict. Please refer to that Order for current details.
Summary of Courtroom Guidelines Order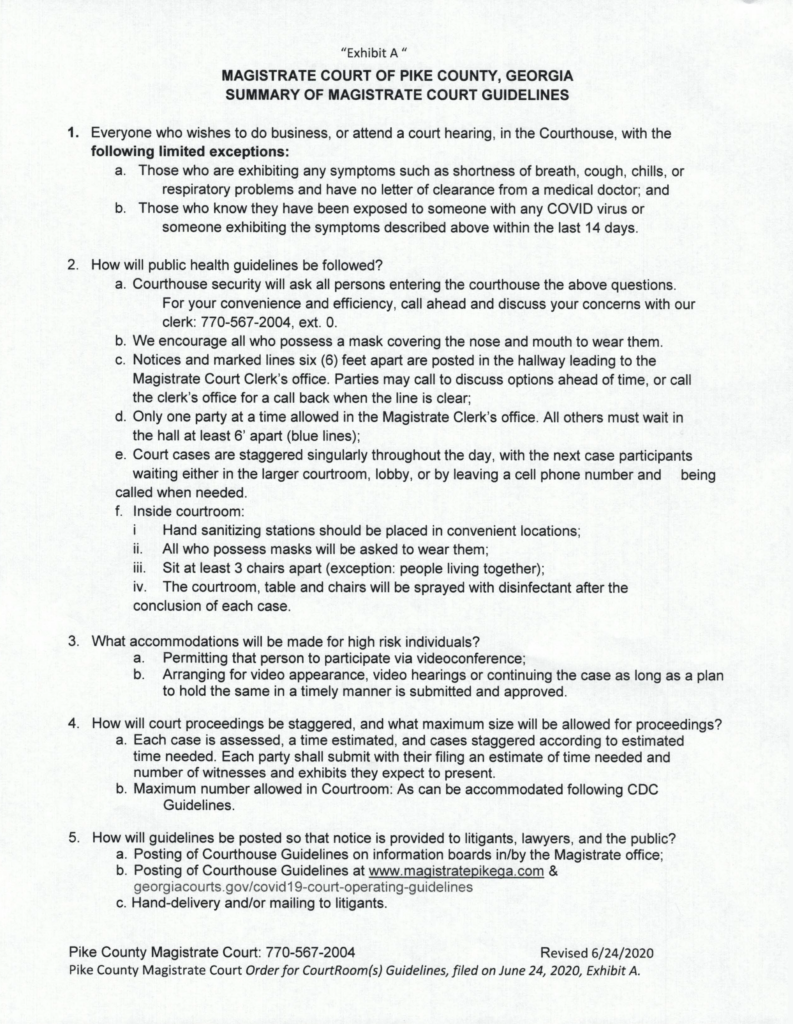 COVID-19 continues to bring change, and for your convenience we hope to help you stay informed -but can't guarantee that our information is the latest! Please help us stay informed as well; please let us know if you find more up-to-date information than we have here!
COVID-19 Changes to Uniform Rules of the Magistrate Court, State of Georgia updates: