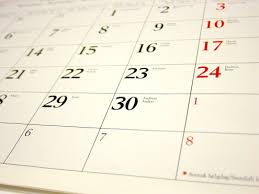 Arrest Warrant, First Appearance and Bond Hearings:
Court is reserved and available for Hearings several times most weekdays, as well as at scheduled times during weekends and holidays. In addition, a Magistrate is always on-call (24 hours a day, 7 days a week, 365 days a year, including holidays!) to consider warrants in emergency matters. Warrant and First Appearance Hearings are to be scheduled by the arresting officer so that a Warrant Hearing, an Initial Appearance Hearing and a Bond Hearing take place within 48 hours of an arrest, as is generally required by law.
First Appearance & Bond Hearings
Monday – Friday at 9:00 a.m. and 3:00 p.m.; and
Saturdays at 6:30 p.m.
Sundays: EMERGENCY HEARINGS ONLY
Other Court Calendars to begin as follows:
Civil Hearings: Mondays & Wednesdays, beginning at 10:00 a.m. & 1:00 p.m.
Pre-Warrant Hearings: Thursdays beginning at 10:00 a.m.;
Preliminary Hearings: Thursdays at 2:00 p.m. (arrive by 1:30);
Deposit Account Fraud Arraignments:  2nd Wednesday each month beginning at 10:00 a.m. 
County Ordinance Arraignments: 2nd Wednesday each month beginning at 10:00 a.m.
Deposit Account Fraud & County Ordinance Trials: 3rd Thursday each month beginning at 10:00 a.m.
Temporary Protective Order Applications MUST be brought through PROMISE PLACE:
Pike: (770)567-3447     Griffin: (770)692-3333
Crisis Hotline: (770)460-1604 -or- (866)780-3718
Communicating with the Court. (Click to see video.)  While a judge may discuss scheduling issues with one party at a time, it is our preference not to discuss ANY matters with one party to a case out of the presence of the other party. Under no conditions will a judge discuss the merits of a case with only one party, so please DO NOT ask to discuss your case with a Judge.  We want both parties to be confident in receiving a fair and unbiased day in Court. NEITHER THE CLERK NOR THE JUDGE CAN OR WILL GIVE  LEGAL ADVICE TO A PARTY.  Should you need legal advice, please see an attorney.
NOTIFY THE CLERK OF COURT OF CHANGES IN CONTACT INFORMATION IMMEDIATELY! If you should move, it is your responsibility to inform the Court in writing of your new address.  The Court is not responsible for a party who does not receive their hearing notice because they did not inform the Court of a new address.  The Court may issue a default judgment against a Defendant who does not appear at the hearing in a civil case.  If the Plaintiff fails to provide the Court with their new address, and does not appear at the hearing, the Court may dismiss the civil case. Contact Kim Wilson, Civil Division Clerk, to update your information by email, or phone (770) 567-2004, extension 206.
In a criminal case, the Court may issue a Bench Warrant for your arrest for failure to appear for Court. Please be sure to keep your contact information up to date by contacting Carson Wynn, Criminal Division Clerk, or phone (770) 567-2004, extension 207.